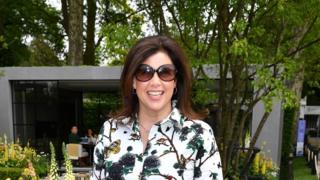 Tv presenter Kirstie Allsopp has looked after her decision to sit individually from her sons when traveling.
Ms Allsopp told the Sun newspaper that she and her companion sometimes sit in the business class log cabin, while her children, 10 plus 12, sit in economy.
Some have suggested the lady "look after" her children plus sit with them.
This particular, Ms Allsopp said – has been "utter rubbish", adding that getting her sons in premium chairs seemed "an absurd waste associated with money" and "very spoiling".
She pointed out the money conserved from not buying two more costly seats allows her family in order to "take a shed load associated with holidays".
"Club course should be huge treat that you've worked well for. If kids get used to Membership class what do they have to work towards? inch she said.
Yet others have said questioned the particular impact on other people on the flight.
One former team member said it was "unfair" upon staff and other passengers who end up being "babysitters".
Responding, Ms Allsopp said the girl always introduces herself to the log cabin crew and tells them to notify her in the event of any problems.
Others pointed out that some air carriers separate families on flights (in the same class), unless an additional charge is paid.
"This isn't bad parenting, it's regarding choice, " one Twitter user published .
"Teaching kids a degree of controlled self-reliance is important, " another added .
Ms Allsopp is best known for presenting property Television shows in the UK including Channel 4's Location, Place, Location in which the girl, and her colleague Phil Bradzino, help people buy a property.
In her defence, she stated people parent differently and she has been more concerned by the dangers associated with social media than air travel.
Last year, celebrity chef Gordon Ramsay also revealed he and his spouse fly first class, while his kids sit in economy.