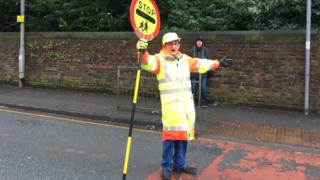 A lollipop man's ban from high-fiving college children in the road has motivated anger from parents.
Colin Spencer, 83, mentioned he has worked as a lollipop guy for St George's Primary College in Heaviley, Stockport, Greater Stansted for 14 years.
Stockport Council said it informed him to stop the high-fives plus "concentrate on ensuring highway safety".
Dawn St Clare, whose children go to the school, mentioned the "ridiculous" ruling has irritated parents and upset pupils.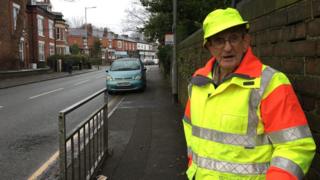 Mrs Clare mentioned the council's school crossing patrol team sent a text in order to parents via the school on Wednesday asking them to tell their children never to high-five Mr Spencer on the road.
A text the following time said children could high-five Mister Spencer but only on the sidewalk.
'Lolly lolly lolly'
Mrs Clare said all of the parents this wounderful woman has spoken to have been upset, as well.
"Some of the children are on the autistic spectrum and therefore are in a routine.
"Since the ban, crossing the road has turned into a little bit confusing to the children… plus they've gone to school upset mainly because Colin hasn't high-fived them plus they can't understand why. "
Mrs Clare added: "I believe it's ridiculous to ask the kids not to do [it]; it truly cheered them up in the morning. inch
You might also such as:
She said all her five children love Mister Spencer and when they see your pet they shout "lolly lolly lolly".
"We explain to the kids he's not allowed to high-five, however they keep trying. "
Mr Spencer said some of the students have ended up in tears as they can no longer high-five them on the road.
"They sent a boss out to say I mustn't high-five because it's disrupting traffic.
"The younger children miss why – some of them have began crying. "
A Stockport Council spokesperson mentioned: "School crossing patrols are required to constantly observe the road and traffic situations to ensure the safety.
"The school crossing patrol with this location has been asked to stop 'high-fiving' and to concentrate on his core responsibility of ensuring highway safety. "