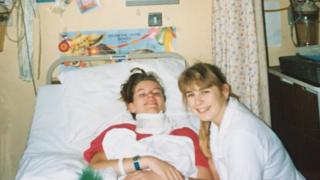 A woman has appealed for help to track down the nurse who did "silly things" to make having cancer as a teenager "less painful" 30 years ago.
Liz Brown spent four months of 1989 in Addenbrooke's Hospital, Cambridge, with aggressive osteoblastoma after waking up paralysed on her 14th birthday.
She said one nurse, Debbie, would give her jobs to do and "take the mick out of her" to ease her time in hospital.
Ms Brown's Twitter appeal has been retweeted more than 1, 000 times.
Addenbrooke's Hospital has said it is putting an appeal in its daily newsletter to see if anyone can help with identifying Debbie.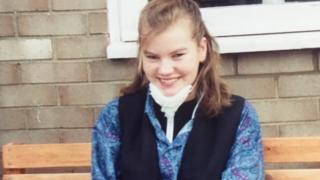 Ms Brown, originally from Peterborough, said that after being taken to hospital with the spinal tumour she was placed on a children's ward.
"[Debbie] saw how hard I found it being on that ward with 14-year-old hormones flying around and being told pretty much that I was going to die, " she added
"She would give me jobs to do and take the mick out of me. She gave me a job as a postman so I could deliver post to the adult patients, silly things like that to make it less painful than it could be. "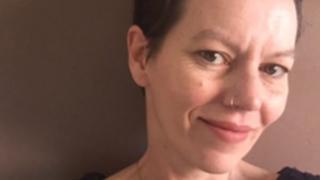 Ms Brown, who now lives in East Riding, had to learn to walk again and was given the all-clear from the osteoblastoma near her neck five years later.
She said Debbie inspired her own career in support work and wants to track her down to say "thank you and what she did for me".
"My prognosis was very poor. I wasn't expected to live more than five years, but now I'm 43 with three children and there's not a wheelchair in sight.
"She might have thought she was doing her job but it went above and beyond that. Those little things you did made me get through that. "