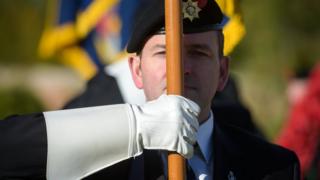 British armed forces veterans could have their driving licences stamped with a "V", as part of plans to improve the recognition of their service.
The move, similar to a US scheme, could see 2.5 million ex-military personnel issued with the new licence to "clearly distinguish" them as veterans.
The card would give holders easier access to specialist services and to offers, including retail discounts.
PM Theresa May said veterans deserved "recognition for their sacrifice".
The scheme, to be announced by the prime minister later, could be implemented in the early 2020s.
Mrs May will say the card will be the first universally recognised ID for veterans in the UK and will create a new proof of service for veterans.
The Ministry of Defence is working with the Department for Transport and the Driver and Vehicle Licensing Agency (DVLA) to adapt the design of the current driving licence.
The idea came from Veterans Minister Tobias Ellwood, who said it would improve the recognition of veterans.
The Conservative MP for Bournemouth East said: "As a former soldier, I am aware of the personal attachment with the service ID.
"Carried at all times it becomes symbolic of the responsibility and there is a strange sense of loss when upon departing the armed forces, it is taken from you.
"I'm delighted this initiative, which sits in the Armed Forces Covenant, will help us all better recognise our veterans and their service to our country."
Defence Secretary Gavin Williamson said he hoped the card would become "a badge of honour" for veterans.
"I hope this ID will become a badge of honour for the veteran community," he added.
The proposed scheme is similar to one in the US, where ex-service personnel receive a veterans' card containing their names, photo and medals won.
The card is also used to access some healthcare benefits.