Asian stocks traded mixed Friday as plans for U.S. tariffs on Chinese imports revived concerns about global trade growth. The dollar climbed, heading for its best week since 2016 after the Federal Reserve signaled further tightening in 2018 while the European Central Bank indicated it won't raise interest rates for more than a year.
Equities edged higher in Japan, rose in Australia and dipped in South Korea. Shares in China and Hong Kong were little changed. The S&P 500 Index closed with a modest rise Thursday, while the Nasdaq Composite hit a record high. European stocks and bonds jumped and the euro fell after the ECB delivered a somewhat dovish message to investors. Emerging markets are under pressure as worries about an overhaul of Argentina's central bank leadership saw a plunge in its currency.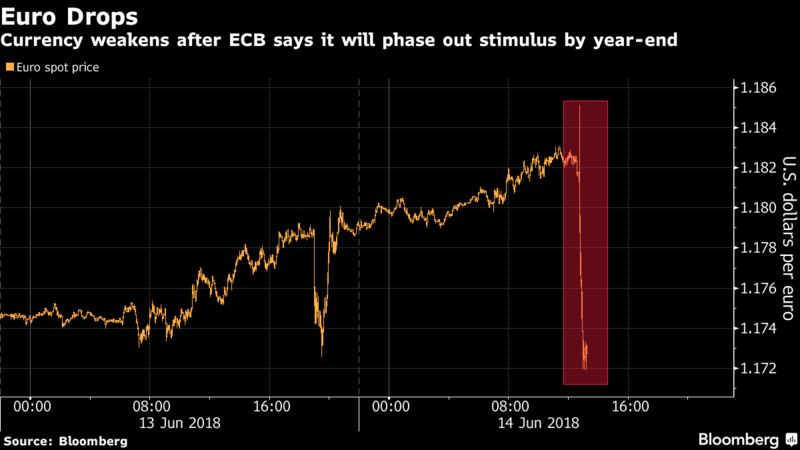 Concluding what's been an event-packed week for global markets, the Bank of Japan meets Friday, with no change to policy expected — though Governor Haruhiko Kuroda is likely to be pressed in a news conference on recent cutbacks in bond purchases. The BOJ is set to stand out against global peers that are moving ahead with policy normalization.
ECB President Mario Draghi succeeded Thursday in announcing the phasing out of quantitative easing without roiling markets. Prospects for no rate hike until the second half of 2019 saw the euro tumble at one point the most since 2016. A day earlier, Fed Chairman Jerome Powell said that with the U.S. economy in "great" shape, American policy makers will continue with gradual rate increases. Fed officials indicated that they'll raise their benchmark a total of four times this year.
Still to come Friday is an expected official announcement on President Donald Trump's list of $50 billion of Chinese imports targeted for higher tariffs, a move that China has said it will respond to in kind. China had threatened to abandon commitments made in bilateral talks so far if Trump went ahead with tariffs.
Elsewhere, oil headed for a weekly gain as a halting of oil loading from two key ports in Libya offset concerns about a phase-out of supply limits by OPEC and allied producers.
These are some key events to watch this week:
The Bank of Japan June monetary policy decision and news conference is Friday.
And these are the main moves in markets:
Stocks
The MSCI Asia Pacific Index fell 0.1 percent as of 10:43 a.m. Tokyo time.
Topix index rose 0.2 percent.
Hong Kong's Hang Seng Index rose less than 0.05 percent.
Kospi index fell 0.4 percent.
Australia's S&P/ASX 200 Index gained 1.1 percent.
Futures on the S&P 500 Index fell 0.1 percent.
Currencies
The Bloomberg Dollar Spot Index rose 0.1 percent.
The Japanese yen advanced 0.1 percent to 110.56 per dollar.
The euro was unchanged at $1.1568.
Bonds
The yield on 10-year Treasuries fell one basis point to 2.92 percent.
Japan's 10-year yield fell less than one basis point to 0.035 percent.
Australia's 10-year yield fell about four basis points to 2.679 percent.
Commodities
West Texas Intermediate crude rose 0.1 percent to $66.96 a barrel.
Gold fell less than 0.05 percent to $1,301.90 an ounce.
LME copper fell 0.5 percent to $7,141.50 per metric ton.