Stocks in Asia kicked off the second half of 2018 in a mixed fashion, while oil declined and the euro came under pressure over German political concerns.
Japanese and South Korean shares edged lower and Australian ones rose. Chinese stocks slipped, while the yuan was little changed at the open, as investors monitor for signs of intervention in the wake of the currency's sharpest drop since its 2015 devaluation. Hong Kong is closed for a holiday. Oil slid below $74 a barrel in New York after U.S. President Donald Trump called for higher production. Crude surged more than 8 percent last week.
The Mexican peso nudged higher as exit polls showed Andres Manuel Lopez Obrador, as expected, winning Sunday's presidential vote by a landslide. With his business-friendly rivals vanquished, traders will be seeking clues on the incoming government's economic policy.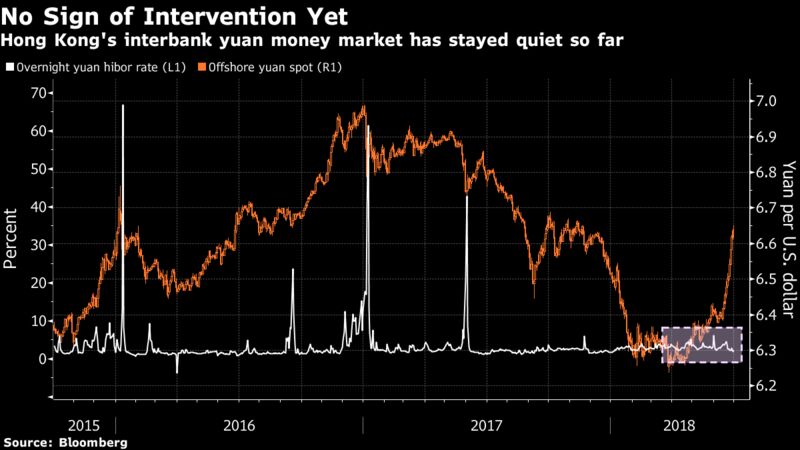 Trade war jitters, political risk in Europe and divergence in monetary policy across the world remain some of the key themes investors are grappling with following the end of the first half. Factory data over the weekend added to concern that China's growth is softening. This Friday's payrolls report in the U.S. and minutes from the Federal Reserve's most recent meeting could influence expectations for two more interest-rate increases this year.
Elsewhere, Chancellor Angela Merkel's Christian Democratic Union party said Sunday it will pursue migrant pacts with its partners amid reports the German interior minister has resigned. Stances on Germany's defense against migration is escalating a political crisis that could leave her without a parliamentary majority.
President Trump piled more pressure on OPEC over the weekend, demanding the cartel stop what he called its manipulation of the oil market and insisting the group pump more.
Terminal users can read more in Bloomberg's Markets Live blog.
These are key events coming up this week:
U.S. manufacturing probably continued to expand at a robust pace in June, economists forecast ahead of Monday's release.
The Reserve Bank of Australia has a policy decision Tuesday.
The U.S. celebrates Independence Day on July 4, Wednesday. Stock and bond markets are closed, along with government offices.
Federal Reserve releases minutes of its June 12-13 meeting, when FOMC policy makers raised the benchmark rate a quarter point for the second time this year, and lifted their median forecast to four total increases in 2018.
U.S. payrolls are due Friday.
Also on Friday, the U.S. is scheduled to impose tariffs on $34 billion of Chinese goods. Beijing has said it will slap tariffs on an equal value on U.S. exports including agricultural and auto exports.
Here are the main market moves
Stocks
Futures on the S&P 500 rose 0.2 percent as of 10:32 a.m. in Tokyo. The underlying gauge closed up 0.1 percent on Friday.
Japan's Topix index lost 0.1 percent.
Shanghai Composite fell 0.2 percent.
South Korea's Kospi dropped 0.5 percent.
Australia's S&P/ASX 200 Index added 0.4 percent.
Currencies
The euro slipped 0.2 percent to $1.1659.
The pound fell 0.2 percent to $1.3186.
The yen climbed 0.2 percent to 110.98 per dollar.
The Bloomberg Dollar Spot Index rose 0.1 percent.
Bonds
The yield on 10-year Treasuries held at 2.86 percent.
Australian 10-year bond yields slid one basis point to 2.62 percent.
Commodities
West Texas Intermediate crude slipped 0.8 percent to $73.54 a barrel.
Gold futures fell less than 0.1 percent to $1,252.30 an ounce.