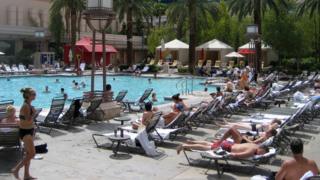 UK travellers are to be offered the chance to choose their particular sunbed before they have even still left home.
Thomas Cook's trial scheme will allow customers to pay for £ 22 to book a particular lounger in advance of their holiday.
They will be able to choose their preferred location from a chart, which will also allow customers to exercise when each spot will get sunlight and shade.
Just some sunbeds will be bookable included in the scheme, which is being trialled within three hotels next month.
The travel firm's "Choose Your own Favourite Sunbed" service will then be accessible in 30 hotels this summer.
For customers who do not wish to pay the premium, a percentage of sunbeds at those resorts will not be part of the scheme.
Sunbed sprints
The service comes after a number of videos had been posted online in recent months showing Uk holidaymakers sprinting to get sunbeds early in the morning.
Thomas Cook's UK managing movie director Chris Mottershead said the effort will particularly help "families that are looking to secure a number of beds together in the specific spot".
This says it is the UK's first deal holiday company to provide such a support and follows the trial plan it introduced last year allowing clients to select their hotel room before the begin of their trip.