Walt Disney Co. is close to winning U.S. antitrust approval for its $71 billion deal for 21st Century Fox Inc.'s entertainment assets, according to a person familiar with the matter, creating a potentially insurmountable hurdle for a rival bid from Comcast Corp.
The Justice Department is set to approve the deal in as soon as two weeks, said the person, who declined to be named because the investigation is confidential. Disney has agreed to sell some assets to address competition problems stemming from the tie-up, according to the person.
Disney and Fox agreed in the merger agreement to sell assets including Fox's regional sports networks.
The approval could clinch Disney's takeover of Fox amid its battle with Comcast for one of the media industry's biggest prizes. Fox on Wednesday accepted a sweetened bid from Disney, which upped its offer following Comcast's $65 billion bid last week. The $38-a-share price is about $10 a share higher than what Disney offered in December — and $3 above Comcast's bid.
Disney rose as much as 1.7 percent and Comcast jumped as much as 2.5 percent on the news. Disney was trading up less than 1 percent at $107.01 at 2:42 p.m. in New York, while Comcast was up 2.3 percent at $33.55.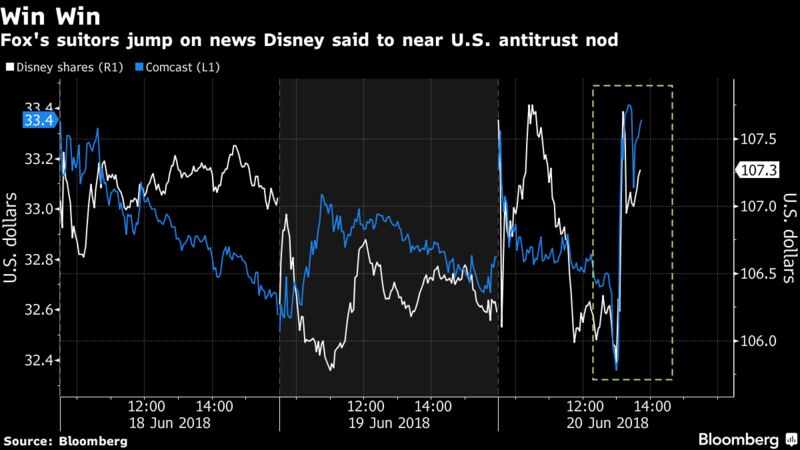 The Justice Department and Fox declined to comment. A Disney representative didn't immediately respond to requests for comment.
Disney and Comcast have traded jabs over which bid would face an easier path to regulatory approval, an important consideration for Fox stockholders, who must weigh which deal to accept. A July 10 Fox shareholder vote on the deal was postponed to a "future date" to allow more time to evaluate Disney's new offer "and other developments."
"We are already six months into the regulatory process and we are confident we have a clear and timely path to approval," Disney Chief Executive Officer Bob Iger said Wednesday morning on a call with analysts.
Iger said Disney has been working with regulators in the U.S. and around the world and has "made a lot of progress" toward obtaining approvals. He cautioned that last week's court ruling allowing AT&T Inc. to buy Time Warner Inc. didn't necessarily pave an easier path for Comcast to buy Fox, noting that even the judge urged people not to apply his decision in that case to other deals. Iger added that the Justice Department remains concerned about mergers between companies that don't compete directly.
"For all these reasons we have a much better opportunity in terms of approval and timing of that approval than Comcast does in this case," Iger said on the call.
When Comcast made its bid for Fox last week, CEO Brian Roberts said in a letter to Murdoch and his sons that he is "highly confident" that Comcast will "obtain all necessary regulatory approvals in a timely manner and that our transaction is as or more likely to receive regulatory approval than the Disney transaction."
Read more: Comcast's Fox Bid to Further Test Antitrust Cops Waging AT&T War
The Disney-Comcast contest will determine who controls much of Rupert Murdoch's empire, including Fox's movie and TV studios, television networks such as FX, and multichannel providers like Star India and Sky Plc. At stake is a trove of media properties ranging from "The Simpsons" to "X-Men" that may help fend off the threat from Netflix Inc. and other streaming upstarts. Both Disney and Comcast are looking to use the Fox assets to bolster their content and expand overseas.
The Justice Department's antitrust division has been reviewing the Disney deal for months, while the investigation into Comcast's bid hasn't started, according to the person. The head of the antitrust division, Makan Delrahim, signaled earlier this month that Disney could win approval.
"They had good advice and carved out surgically a transaction that might be doable," he said at The Deal's Corporate Governance conference in New York.
(
Updates with share prices in fifth paragraph.
)