As if the deep freeze that's sent temperatures plunging to all-time lows across the eastern half of the U.S. weren't enough, the region may get hit with a snow bomb.
Now that Boston has tied a 100-year-old record with seven days of highs below 20 degrees Fahrenheit, New York's airports have registered new lows and Chicago has enjoyed its coldest New Year's Day ever, a storm is set to race up the U.S. East Coast on Thursday and dump snow along the way. Boston may see as much as 11 inches (28 centimeters), Manhattan could get 3, and Brooklyn and Queens are set for 4.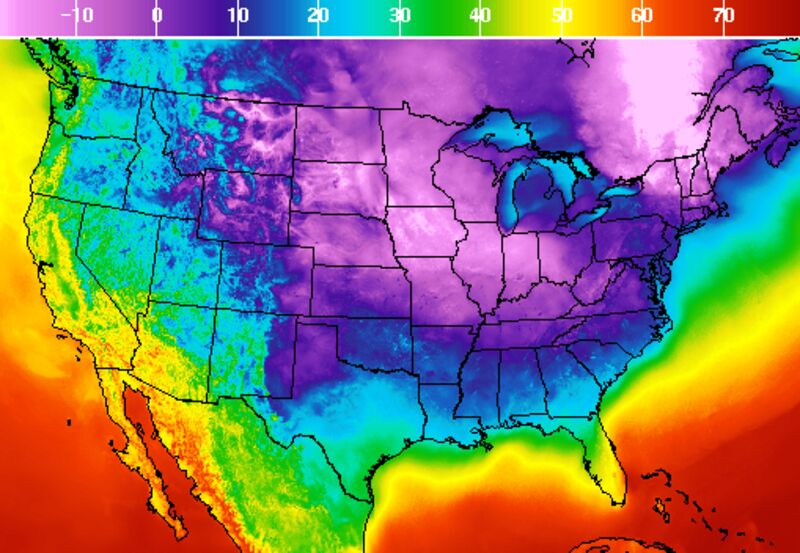 This storm may end up being worse than your average nor'easter. It could turn into a bomb, short for bombogenesis, a phenomenon that occurs when a system's central pressure drops steeply — 24 millibars or more — in 24 hours. If current computer models hold, that'll start to happen somewhere off Cape Hatteras, North Carolina, and continue as the storm moves north. Hurricane-force wind warnings have been posted off the coast where ships could encounter winds of 80 miles (130 kilometers) an hour and waves as high as 26 feet on Thursday.
"The real apex, the peak of the storm, will be Cape Cod to Nova Scotia," said Gregg Gallina, a forecaster at the U.S. Weather Prediction Center in College Park, Maryland.
On its current track, the storm will scrape the East Coast and dump snow from South Carolina to Maine and into Canada, with Boston and parts of Maine bearing the brunt. Georgia Governor Nathan Deal has already declared a state of emergency for 28 counties. The weather stands to wreak havoc on markets for longer, as electricity prices have already surged to the highest level in years and natural gas demand hit a record high.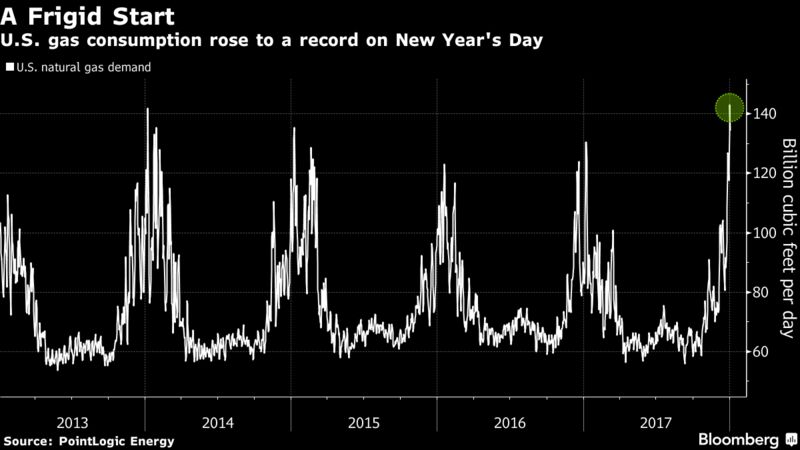 "On Long Island, out by the Hamptons and Montauk, it could be 4 to 6 inches, then we start talking about the really big numbers," Gallina said. "The main action is the eastern third of Massachusetts."
There's a silver lining: The storm will offer some respite from the bone-rattling cold that triggered wind chill advisories and freeze warnings across the central U.S. and winter storm watches from Massachusetts to Florida on Tuesday.
But the relief will only be temporary as the Arctic chill is set to make a comeback by the end of the week. Temperatures will rise out of the teens and single digits from Philadelphia to Boston before slipping back again by Friday and Saturday.
"This is only the appetizer — the main meal comes over the weekend," said Judah Cohen, director of seasonal forecasting for Atmospheric and Environmental Research, a Verisk Analytics Inc. business in Lexington, Massachusetts. "This is about as intense a cold as I can remember."
The storm will probably cause blizzard conditions in New England and eastern Long Island as high winds accompany the snow, said Paul Walker, a meteorologist with AccuWeather Inc.
And that's not where the bad news stops: Another round of bitterly cold air is forecast to blast across the U.S. by the middle of next week. The chill could linger through Jan. 16.