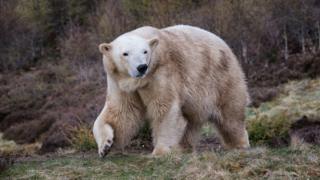 A female polar bear at a Scottish animal park has given birth to a cub, says the Royal Zoological Society of Scotland. (RZSS).
It is the first polar bear to be born in the UK in 25 years.
The mother bear, Victoria, is one of three adult polar bears at the Highland Wildlife Park at Kincraig, near Aviemore.
RZSS said "high-pitched noises" made by the cub could be heard from Victoria's maternity den just before Christmas.
The last polar bear cubs born in the UK were twins at Flamingo Land in Yorkshire on 8 December 1992.
Arktos, the male bear Victoria mated with, is one of the park's other adult bears. He is in a separate enclosure from the female bear.
Victoria's enclosure is closed to the public.
Una Richardson, the park's head keeper responsible for carnivores, said: "We first heard promising noises in the week before Christmas and these have now continued into the new year.
"Because we don't have sight inside her cubbing box we can't be sure if Victoria has had more than one cub, but we can confirm the birth.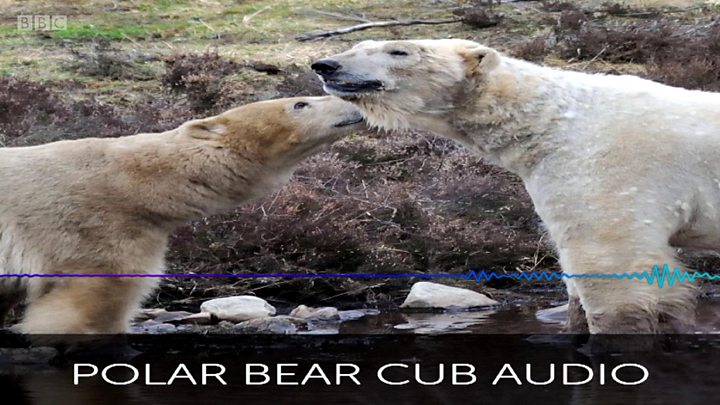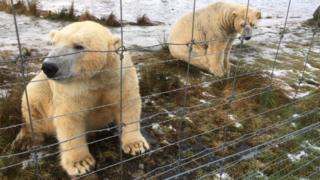 "While we are absolutely thrilled, we are not celebrating prematurely as polar bear cubs have a high mortality rate in the first weeks of life due to their undeveloped immune system and the mother's exaggerated need for privacy, with any disturbance risking the cub being killed or abandoned."
She added: "We will continue to monitor Victoria and very much hope for the best possible news when she emerges around March.
"Until then, Victoria's enclosure will be closed to the public and keeper activity will be at a minimum to give her offspring every chance of survival."
Wildlife conservation group Born Free has criticised the keeping of polar bears in zoos, saying the animals are "ill-suited" to zoo environments.
Its president, Will Travers, said: "At a time when the zoo community should be phasing out the keeping of polar bears in captivity, the Royal Zoological Society of Scotland has decided to row against the tide.
"From a welfare point of view, the enclosure at the Highland Wildlife Park may be significantly better than the blue-rinse concrete pits that people so often associate with polar bears in zoos, but we contend that our efforts on behalf of this species should be focused on mitigating the impacts of human-induced climate change and securing the species in the wild, not subjecting another polar bear to a lifetime in captivity."
On Tuesday, a zoo in Berlin said that a polar bear cub born at the site 26 days earlier had died.
---
Bear minimum: A brief guide to polar cubs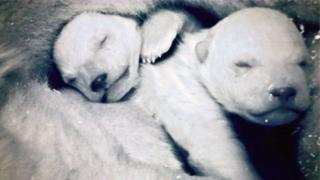 Polar bears mate between March and June
Females normally give birth to one or two cubs in November or December
Newborn polar bear cubs are blind, about 30cm long and weigh little more than a guinea pig. They only open their eyes when they are a month old
Victoria, who was born in 1996 at Rostock Zoo in Germany, previously gave birth at Aalborg Zoo in Denmark in 2008. She arrived at RZSS' Highland Wildlife Park in March 2015
Male bear Arktos arrived at the park in April 2012 from Hanover Zoo in Germany. He was born in 2008 at Vienna Zoo
Arktos shares an enclosure with another male, Walker, whose own time as a cub was the source of a controversy over the BBC's Frozen Planet documentary