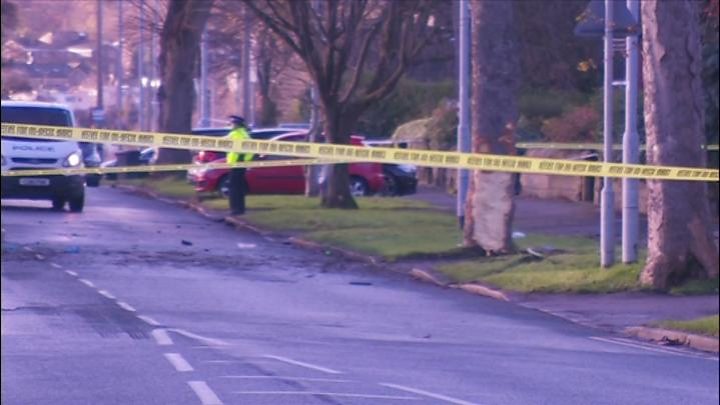 Five people, including three children, have died after a stolen car crashed into a tree in Leeds.
The youngest victim was a 12-year-old boy, West Yorkshire Police said. Two 15-year-old boys and two men aged 24 and 28 also died.
Officers were called to Stonegate Road in the Meanwood area of the city at 21:54 GMT on Saturday.
Two 15-year-old boys are being held in custody on suspicion of causing death by dangerous driving.
A spokesman for the police said officers were confronted by a scene of "complete carnage" when they arrived at the crash site.
Two people were pronounced dead at the scene and three died a short time later at hospital, the force added.
Their families have been informed.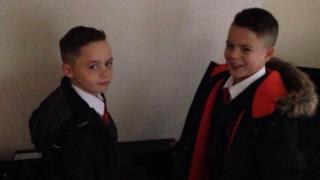 Two of the victims have been named on social media as Ellis Thornton, 12, and his older brother Elliott, 15.
Louise Thornton, 34, described as the boys' "godmother/aunty Lou", told the Yorkshire Evening Post the family was "devastated".
She said: "We were so proud of the boys. They will be hugely missed by the family. It will leave a huge devastating void.
"They were very well-loved. We just can't describe how much these little boys have left a big void in our family."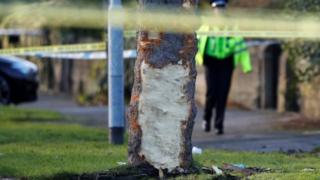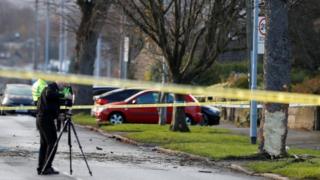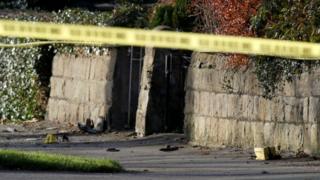 Det Ch Insp Jim Griffiths said: "This is clearly a tragic incident in which five young people have lost their lives."
Earlier police said they were working on the assumption all seven were in the same vehicle – a Renault Clio.
However, the force has since said: "Whether they were all in the car or whether some of [the victims] were pedestrians we can't say at this point in time."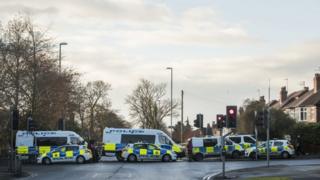 At the scene: Corinne Wheatley, BBC Look North
People who live on Stonegate Road between the police cordon are being escorted away by officers if they want to leave their homes .
The residents are not being allowed to use their vehicles which are being kept off the road.
There is also a heavy police presence and residents can be seen leaving their homes, approaching the police and speaking to them.
Reporters are being kept behind the police cordon but a large scar can be seen on a tree further along the road.
The closure of the road is causing traffic disruption as it is a busy route between Meanwood and Moortown in Leeds.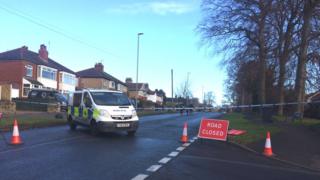 Stonegate Road is about three miles north of Leeds city centre and has semi-detached houses and wide grass verges between the houses and the road.
It remains closed and the force's major collision inquiry team is investigating what happened.
Anyone with any information is asked to contact West Yorkshire Police.