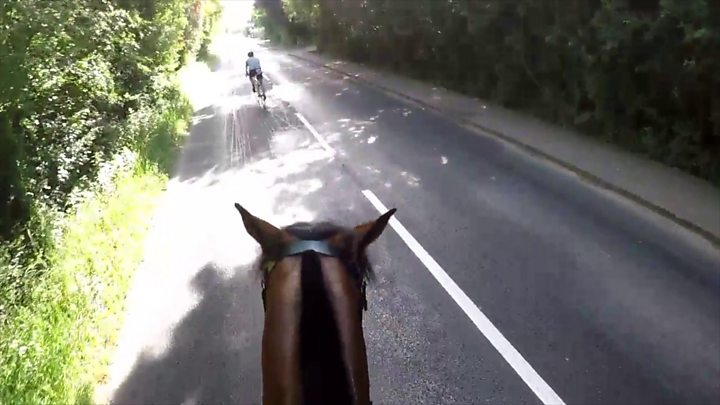 A cyclist has been banned for life from a triathlon organiser's events after a horse and rider were hit as participants raced past them.
Human Race events said a second cyclist had been handed a 12-month ban from their races following a investigation.
Footage showed the moment the rider said she and her horse were hit during the Royal Windsor Triathlon on 17 June.
Triathlon officials said the "mishap" was a "police matter", adding a investigation was ongoing.
The video shows cyclists pass on both sides, the horse react to a jolt, and the rider cry out.
In a statement, Human Race events said: "We believe we have identified two individuals at fault, but we won't be revealing further details or sharing their identities, as this is a police matter.
"We are liaising with British Triathlon, who will be responsible for taking their own actions."
The rider, posting under the name "Jennifer Katherine", wrote at the time of the incident: "The cyclist smashes along the side of my horse, taking my stirrup in the handlebars and bruising up my ankle.
"My horse rears and bolts forward, taking off one of his back shoes."
"No-one stopped to see if I or the horse was OK after this hit," she added.
Following an internal review, organisers said they would improve signage for the Royal Windsor Triathlon and improve "communication to the horse-riding community".
They added: "We take this incident very seriously and are committed to improving our processes.
"We believe this mishap is a poor representation of the triathlon community. The vast majority of triathletes and cyclists do follow the rules and ride with due care towards others."
The triathlon has been running for 28 years and competitors start and finish the race near Windsor Castle.