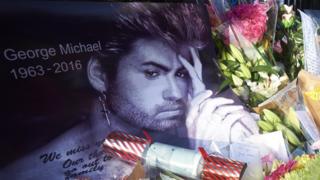 George Michael was found dead at his riverside home on Christmas Day 2016. In the village of Goring, Oxfordshire, where he had lived for 17 years, he is still remembered not as a superstar but as a neighbour and friend. Here some people share their memories of meeting the star in their midst.
'George Michael is rubbing my feet'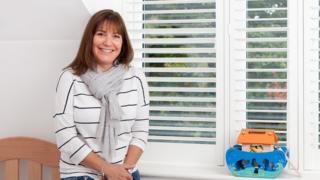 Alison Clark's first encounter with the '80s icon was when she offered him a lick of her ice-cream after bumping into him during a walk along the River Thames.
"I was desperate to say something to him," she says.
"It came out all un-cool. He said no. But he did laugh."
Despite the embarrassment, the two became friends. She later went to his 40th birthday celebrations, where she danced with him in the garden, drank from magnums of champagne and ended up being thrown into a swimming pool.
Michael helped her to get dry and took her to his dressing room where he invited her to wear whatever she wanted from his wardrobe. He then placed the damp clothes in front of the fire.
They chatted through the night about life and music.
"Then he started rubbing my feet," Ms Clark reminisces. "I was just sitting there thinking 'George Michael is rubbing my feet'. It was surreal."
'I rescued his labrador'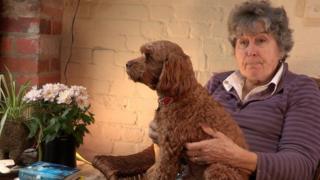 Diana Davies lived next door to Michael's £5m home and was invited to his parties, rubbing shoulders with celebrities.
She says he had made a point of introducing himself when he moved in and they would regularly chat in the garden about the wildlife and countryside surrounding the village.
They developed a permanent bond though when Mrs Davies saved one of his labrador puppies, Meg, from drowning in a stream.
"It was an absolutely abysmal Saturday morning – it was coming down stair rods," she recalls.
"I'd taken my dog for a walk and as I was going along I could see this puppy looking very anxious, about six months old I suppose, running backwards and forwards along the moorings.
"I recognised her as Meg straight away. She was very distressed as she wasn't sure where she was, but I managed to grab her, and take her round. She was absolutely sodden.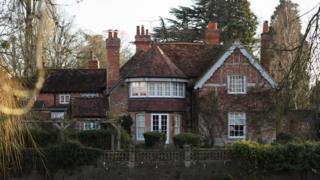 "I went to the front door but there was no answer, so I went round the back.
"[George Michael] came rushing down, one shoe on, one off, hopping along, saying 'we've just missed her'. I said 'your little Meg is here'. He said 'ooh come in, come in' but I had so much rain pouring in I said 'I can't, I'd better not'.
"He was very glad to see her. He said 'well I must do something' so I said 'I tell you what, if you could be patron of our swan rescue organisation that would be wonderful'."
Michael agreed and formally supported the charity from that moment on.
"He never made a song and dance about it, which I understand is the case with a lot of charities he supported," she says.
'Just wanted to say hi'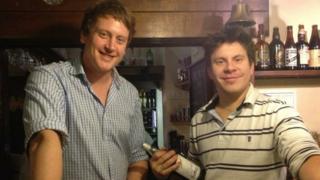 "George, you're not the only gay in the village," read a card slipped through the former Wham! star's letterbox in November 2015.
"It will make my husband's Christmas if you came into our pub. Hope to see you soon."
The husband in question was Tim Schulz, owner of the Catherine Wheel pub near the star's home.
While he was "horrendously embarrassed" when he found out what his husband James Dawe had done, the cheeky tactic worked. A few days later a large group of friends came into the pub.
"They were late, so I was sort of flustered and annoyed," says Mr Schulz.
"They said they had a reservation… and as I was talking it suddenly dawned on me that it was George Michael standing in front of me."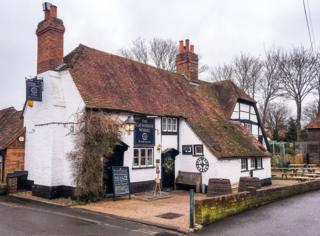 His elation was quickly replaced with panic when the star asked for fish and chips, moments after his chef had announced all the cod was gone.
As it turned out he preferred scampi, alongside a glass of white wine, anyway.
Nerves settled, the singer told Mr Schulz he thought the card his husband had sent him was "cute" and that he "just wanted to say hi".
After that night, Michael became a regular. He always declined the offer of a private area because he "wanted to see everything that was going on".
"He wasn't loud and extrovert or drawing attention to himself," says Mr Schulz, "but certainly in a one-on-one conversation he was very personable."
'It was his sanctuary'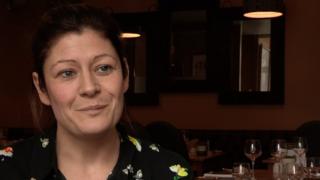 Michael also frequented the Miller of Mansfield pub, just across the road from his 16th Century home.
The manager, Mary Galer, says the people of Goring wanted a quiet existence just as much as their pop star resident did.
"It was his sanctuary," she says. "He lived here for a reason. We all understood he wanted to be out of the limelight and to live his life how he wanted to live it."
Always referring to him as "Mr Michael", Ms Galer says she remains mindful of respecting his privacy when fans come asking personal questions.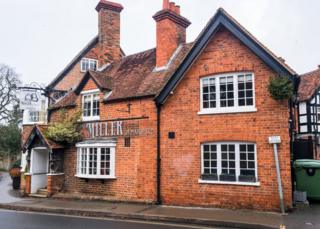 "He was a very loyal patron, one that was lovely to have – but as far as we were concerned he was a normal customer."
She says the fans who have come to visit since his death have shown "nothing but love" and she has often acted as a "shoulder to cry on".
"They have come from so far and so wide," she explains. "There's never been any animosity with them."
'We need to show our love for him'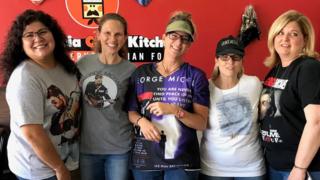 The public alleyway running down the side of his cottage has become a shrine for mourning fans.
Flags from around the world adorn the walls and a steady flow of Michael's followers still filter in to complete their personal pilgrimages, adding teddy bears, photographs and fresh flowers.
More are expected to descend on the village on Christmas Day to mark the first anniversary of his death.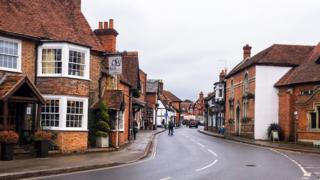 Fifty-year-old Norma Medbery is leaving her two children at home in Valencia, Los Angeles, to travel there on 25 December.
"This is the closest we can get to where he was," she says. "We need to go to show our love for him, our deep respect for him and our appreciation of him and everything he has given us with his music."
Ms Medbery, who is bringing a collage of photographs of her and friends at his concerts over the years, says she feels like she is in mourning at the loss of a friend.
"This is the only way I feel I can get a sense of closure."