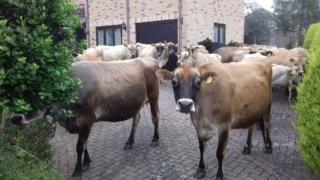 Inhabitants in a village cul-de-sac were awoken by the "sound of mooing" whenever about 40 cows invaded their particular street.
Homeowners within Maulden, Bedfordshire, were disturbed from the herd outside their window around 07: 00 BST.
Rob Morris, who lives upon John Bunyan Close, said he or she and some neighbours teamed up to pencil the escaped cattle into a entrance until help came.
The animals were eventually gotten back by an "apologetic" farmer plus taken home with a police companion, he said.
'Poo down the road'
Full-time carer Mr Morris mentioned he and his wife first noticed the cows in a field at the rear of their house.
"They began doing what cows do, consuming grass, before they came lower a walkway and onto the particular close through a footpath, " he or she said.
"We failed to want to get them onto the main street – it would have been chaotic — so shuffled them upwards and to a driveway. "
Mr Morris said a "breakaway group" of 15 animals returned onto the big field, and had been later picked up by the farmer.
"He told us to express sorry to the neighbours. Some of the landscapes got a bit churned up plus pooed on.
"As they left there was poop all the way down the road, " he additional.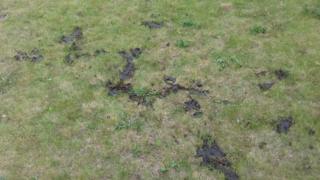 'A nice surprise'
The farmer and a police officer after that ushered the rest out of the driveway on to the main road.
"They were just jogging down the primary road with a police escort, inch said Mr Morris of the "bizarre" experience.
The owner of the particular driveway, which was "the only location we could contain them", will get a "nice surprise" when they get back, Mr Morris said.
Bedfordshire Law enforcement later announced the "breaking moos" on its Twitter account.
The force said a good officer "moo-ved the cows to the farm with the help of the farmer" and reassured animal lovers the particular herd wasn't "udder investigation".