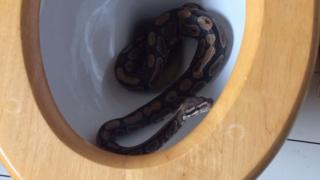 A five-year-old boy was surprised to discover a python inside his bathroom when he lifted up the cover.
He was "frantic" when he found it within the bathroom at home in Southend, Kent, his mother Laura Cowell stated.
Specialists through pet shop Scales and Fangs came to the rescue, removing the particular harmless 3ft (91cm) baby regal python.
"It smelt of bleach and a bit toilet-y, " Ethan Pinion from the shop said. The snake "most most likely came up the u-bend" and is anticipated to recover fully.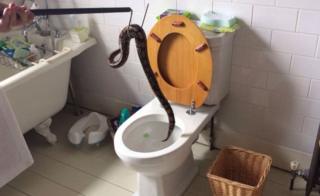 Mrs Cowell said the bathroom . had been "blocked for several days as well as the water wasn't draining well", yet at the time, she did not know the reason why.
Her son found out the unwelcome visitor when this individual went to use the toilet on Wed.
Slither this way for more news through Essex
"He was frantic, and shaking, and am could tell something was incorrect, but that was not what I anticipated, " she said.
"I had to use a broom deal with to lift the lid, after that out popped its head as well as tongue came out as well. "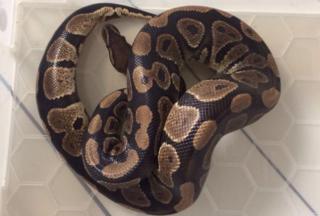 After phoning various potential rescuers, Rob Yeldham, the master of the Leigh-on-Sea store, came to assist.
"I've done several snake rescues in my 10 years, yet I've never had one inside a toilet before. It's definitely an initial for us, " he said.
Mr Yeldham mentioned some neighbours of Mrs Cowell had recently moved and older vivariums were left outside with all the rubbish.
"I think the snake probably steered clear of and went down their toilet, plus ended up in this one, as all of the sewers are connected, " this individual said.
It was not likely it had been there long as it has been healthy and not underweight, although it is definitely suffering from scale rot, "probably in the bleach".
The snake is being treated at the store and when "in perfect health" will be "rehomed with someone reputable so he or she won't end up in a toilet again".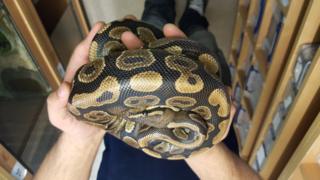 Mrs Cowell said she was "petrified" and put weights on the toilet cover for several days after the experience.
---
Regal pythons:
Originate from Western Africa, from countries including the republics of Ghana, Togo and Benin
Grow to up to 150cm (4ft 9ins) and can live more than two decades in captivity
Typically "docile" within nature, and curl into a basketball when threatened
Require a diet associated with defrosted mice and rats
Source: RSPCA
---