SYDNEY ― Australians have started celebrating same-sex weddings even earlier than expected.
Couples in Australia are supposed to notify the government at least a month before they get married, which meant the first same-sex weddings would take place on Jan. 9 ― one month after Australia became the 25th country to legalize same-sex marriage. But some couples were able to forgo the waiting period due to extenuating circumstances ― if family had already traveled from far away, for example, or financial hardship.
Sydney couple Lauren Price and Amy Laker tied the knot on Saturday, becoming the first gay couple to marry in the southeastern state of New South Wales.
"This day was already planned anyway [as a commitment ceremony], but it wasn't legal, so it was great that it was passed through early," Laker told 9NEWS. The couple got an exemption from the 30-day requirement for financial reasons.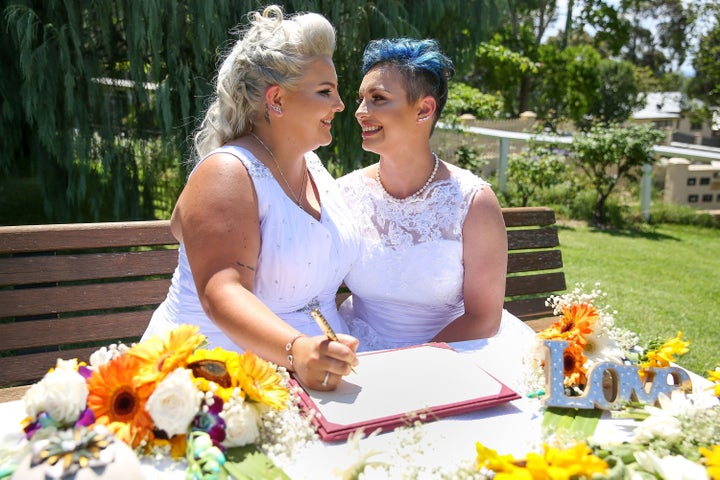 The Australian government in 2004 passed an amendment defining marriage as a union between a man and a woman. That changed this month, when lawmakers overwhelmingly voted to legalize same-sex marriage.
In Melbourne, Amy and Elise McDonald on Saturday had a surprise wedding in front of about 60 unsuspecting guests in the city's Carlton Gardens.
They originally planned for a commitment ceremony, but realized at the last minute they were eligible for an exemption on financial grounds, the couple told the Herald Sun. Elise's family had flown from Asia and the United Arab Emirates for the ceremony.
"We were always going to have a ceremony but to have it legalized is very special," Elise McDonald said.
Another Melbourne couple, Stephanie Dyball and Megan Stapleton, booked their wedding — set for Thursday — months ago because they were sick of waiting for Australia's law to change.
"We got engaged in 2012 — so quite a while ago," Stapleton said. "We waited and waited and we got a bit tired of waiting and thought, 'We're not going to wait around any more for them to change the law, let's just have a wedding.'"
Other ceremonies this week are more bittersweet.
"Anne has been very supportive through all this and marrying her, it's Anne's way of saying, 'Let's finally do this,'" Hawkins said.
Cas Willow, 53, and Heather Richards, 56, on Monday wed at at Peter MacCallum Cancer Centre in Melbourne, where Willow is receiving treatment for breast cancer that has spread to her brain.
"Just because time is not on our side, it's just a dream come true," Willow told SBS.