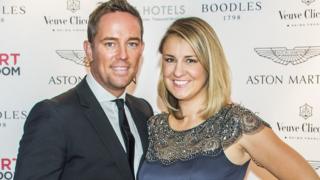 Sky Sports anchor Simon Thomas has said he is weak with grief and unsure how he will ever return to his career.
Since his wife Gemma died suddenly last year aged 40, Thomas said the message from others had been to "be strong".
But writing in a blog post , the former Blue Peter presenter said he is broken, fearful, vulnerable and tear-filled and "if by admitting this it helps one person, then it's worth it".
The post has been praised for its "astonishing honesty" and courage.
Gemma died last November just three days after she was diagnosed with acute myeloid leukaemia.
Thomas has since shared his struggles with grief and supporting their eight-year-old son Ethan.

In his latest post, written in the early hours of Monday morning in the "tenth week of severe sleep deprivation", Thomas reflects on the words of author and pastor, Pete Greig.
"Don't be strong. Be weak. Unclench your fists. Dare to be vulnerable. Honest weakness takes courage, " Greig wrote.
This – Thomas wrote – is what grief feels like.
'What strong looks like'
"All I can do at the moment is unclench those fists, stop trying to be strong and just say to people this is me, " he said.
"This is what vulnerability looks like, and right now I can't be any other way, and as I've now discovered, this is what being strong actually looks like. "
Greig called Thomas' words " astonishingly honest " and said they will help others.
Many more praised his bravery and shared their own experiences online.
Thomas said admitting to weakness and vulnerability isn't something people do well – "particularly for a bloke" – but added that he can't be any other way.
"I'm really struggling, " he said.
Stacey Hart, from bereavement charity Grief Encounter, called Thomas's openness courageous – especially when "male grief is too often invisible".
She said his grief was in its rawest state, a stage when trauma symptoms such as insomnia, memory loss, weakness and vulnerability are often experienced.
"Simon is prioritising his and his son's wellbeing over his public role, " Ms Hart added. "It's admirable that Simon is staying true to himself. "
Thomas said recurring fears included wondering if he could "ever sit in front of a TV camera again with the same confidence" and ever getting used to life "without the woman I loved beyond words".
About 3, 100 people a year in the UK are diagnosed with acute myeloid leukaemia – a type of blood cancer.
---
What support is available?