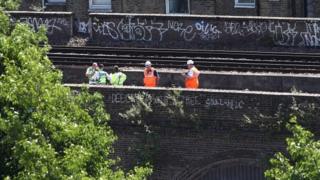 Three men have died after being struck by a train near a south London station.
It is understood that spray cans were found near the bodies of the men, who are believed to be in their 20s.
Police were called to Loughborough Junction station, near Brixton, at about 07:30 BST and the three were pronounced dead at the scene.
The deaths are being treated as "unexplained" and police are investigating how the men came to be on the tracks.
British Transport Police (BTP) said it is investigating whether the men were graffiti artists and confirmed that they were not employed to be on the tracks.
Supt Matt Allingham told the BBC: "When graffiti artists do get on to the tracks, there is massive risk."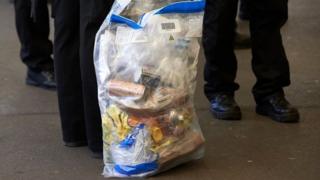 He said the bodies were spotted by another train driver who contacted police, and confirmed the men "were dead for a while before we turned up".
"We're still trying to identify the train that actually hit the individuals," he said.
Police officers remain at the scene where they are working to identify the men and inform their families.
Evidence bags taken from the scene later on Monday contained spray cans and items of clothing.
Officers could be seen taking photos of graffiti alongside the track as part of their inquiries.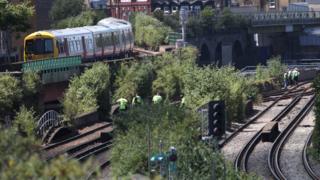 It is believed the victims could have been struck overnight, when freight trains use the rail network more frequently as the passenger pathways are clear.
Speaking about the spot where the bodies were found, Supt Allingham said there "isn't a sort of safe refuge up there, so if somebody was on those tracks there wouldn't be anywhere for them to go to avoid the train".
"If they've been caught in that section of track when a train came through then they really wouldn't have had much options," he added.
Police were unable to confirm whether the men were hit by a freight or passenger service.
Supt Allingham said they were "aware that there are a number of speculative comments about this on social media", but said it was "too early for us to comment on their reasons for being on the track".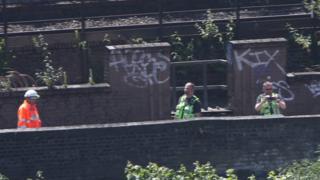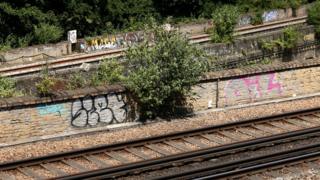 Supt Allingham said officers "have delivered the sad news to one family", and are working to identify and locate the next of kin for the other two men.
Det Supt Gary Richardson said his "thoughts are with the family and friends of these three people".
"My team are now working hard to understand what happened and how these three people came to lose their life on the railway," he added.
He asked anyone who was near the station on Monday morning or "saw something which they think might be relevant" to contact police.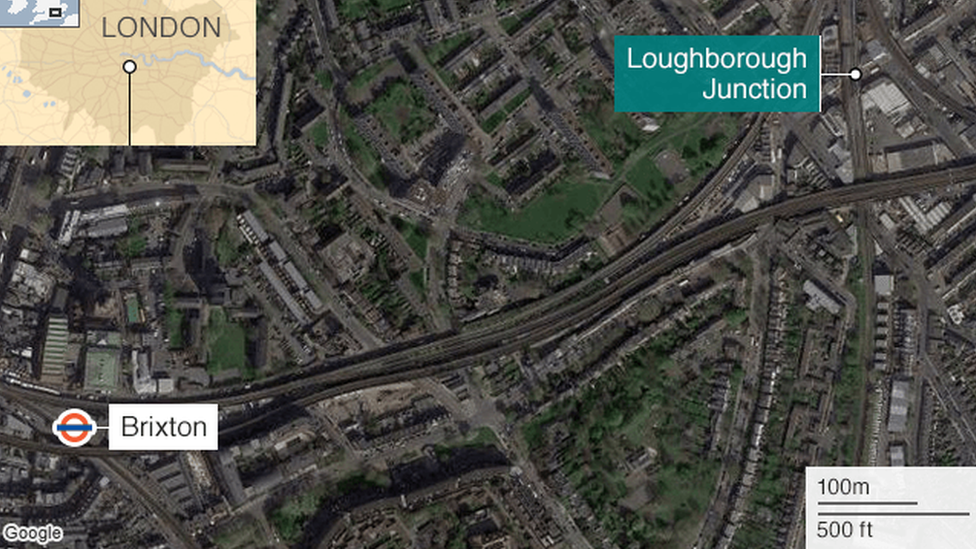 The station remains open, but BTP warned that train services will be delayed while inquiries are carried out.
Network Rail said it was "assisting the British Transport Police as they investigate an incident at Loughborough Junction this morning".
London Ambulance Service said it was called to the station just before 09:00.
"We sent a number of ambulance crews but sadly three people were found dead at the scene," a spokesperson added.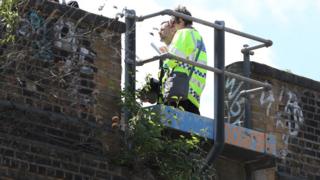 Rail regulator the Office of Rail and Road has opened a preliminary investigation.
Mayor of London Sadiq Khan said his "heart goes out to the families" of the people killed.
Loughborough Junction is an elevated station managed by Thameslink and located on a line between Herne Hill and Elephant and Castle stations.
It is near three other lines used by trains which do not stop at the station.