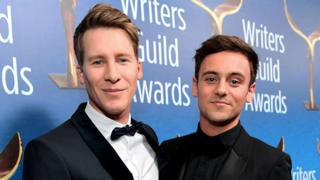 Olympic diver Tom Daley and his US film-maker husband Dustin Lance Black have become parents.
The couple, who announced the pregnancy in February, revealed the news in the Times on Saturday.
They later posted pictures of the baby on social media with Daley tweeting: "Welcome to the world our precious little Robbie Ray Black-Daley."
The pair had their child via a surrogate and previously said they had received some negative feedback.
Three-time World Champion diver Daley had also said he wanted to be as good a dad as his father, who was also called Robert and died in 2011.
Daley, 24, and 44-year-old Black got engaged in 2015 and married in Devon last year.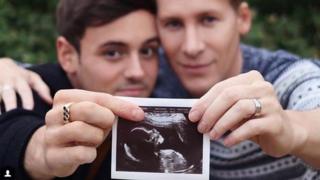 Speaking about using a surrogate on Fearne Cotton's Happy Place podcast in March, Daley said: "With Kim Kardashian West, people felt sorry she's not able to have a child because of health reasons and 'how lovely it is that a surrogate has been willing to do that'.
"But for every other gay couple that is not able to have a child, but desperately would love to bring up a child like any heterosexual couple, we have been treated quite differently."
Daley, from Plymouth, won bronze medals at the Olympic Games in London and Rio de Janeiro.
Black won the best original screenplay Oscar for the 2008 film Milk, which was based on the life of gay rights activist and politician, Harvey Milk.
You may also like
The baby, full name Robert Ray Black-Daley, was named after Tom's father Rob who died of cancer aged 40 in 2011.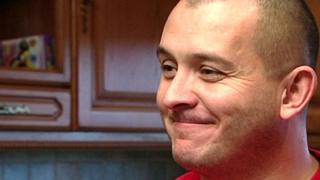 Speaking at the family home, Daley's brother Will said naming the baby Rob was a "nice way to remember him".
"It was really good that he thought of him in that way," he said.
"It means a lot to the family because the legacy continues really and hopefully he will grow up to be just like him."
Will and Tom's mother Debbie is in Los Angeles with Daley and Black.
"We're all chuffed to bits and she's over the moon as we all are," he said.
"She's a grandmother for the first time and it's like starting a whole new family."