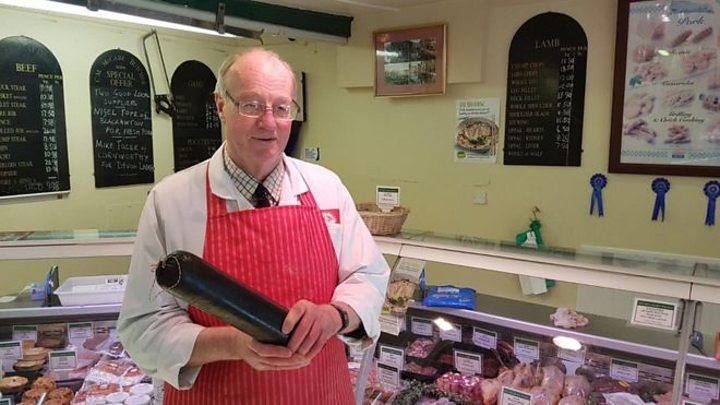 A grocer who became trapped in a walk-in freezer escaped thanks to a iced black pudding.
Chris McCabe, 70, said this individual got trapped after the freezer doorway in his shop in Totnes, Devon, blew shut behind him.
Stranded in temps of -20C (-4F), with the door-release button frozen shut, he mentioned he used the 1 . 5kg (3. 3lbs) sausage as a battering ram memory on the release mechanism.
Mr McCabe said: "No-one could hear me banging. Dark pudding saved my life. "
A lot more news from Devon and Cornwall
'Pointed and weighty'
Upon realising his predicament, Mister McCabe initially thought he "was OK because I could kick the particular safety button from inside", yet "this time it was frozen solid".
Stuck within temperatures capable of killing a human being in about an hour, the father-of-four researched frantically for an improvised tool in order to batter the button.
With the beef too slippery as well as the lamb too big, he happened around the "best thing" – the dark pudding, made by the Queen's grocer HM Sheridan of Ballater, Aberdeenshire, who Mr McCabe has been purchasing the pudding from for more than two decades.
He mentioned: "It was the right shape. We used it like the police use battering rams to break door locks within. It was solid, pointed and I might get plenty of weight behind it.
"I'm lucky really. We all sell about two or three each week which was the last one in there. inch