President Donald Trump said the U.S. Postal Service should charge Amazon.com Inc. more to deliver packages, the latest in a series of public criticisms of the online retailer and its billionaire founder.
The post office "should be charging MUCH MORE" for package delivery, the president tweeted Friday from his Mar-a-Lago estate in Florida, where he's spending the holidays.
"Why is the United States Post Office, which is losing many billions of dollars a year, while charging Amazon and others so little to deliver their packages, making Amazon richer and the Post Office dumber and poorer?" Trump told his 45 million followers.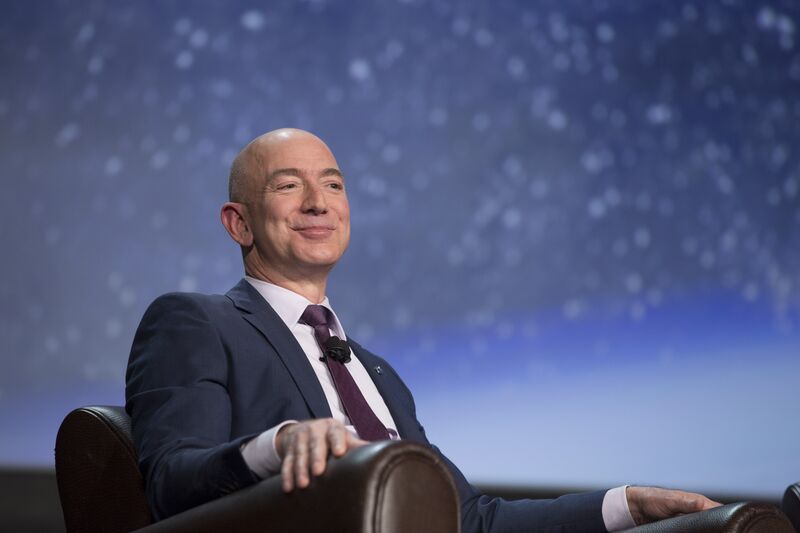 Trump regularly criticizes Amazon and its chief executive officer, Jeff Bezos, who also owns the Washington Post newspaper and is currently the world's richest man. In August, Trump accused the company of causing "great damage to tax paying retailers," even though the internet giant began collecting sales tax on products it sells directly in April.
As with prior missives targeting the company, Trump's message appeared to concern investors. Amazon's stock had gained the past three days, but dropped 0.6 percent to $1,178.68 at 12:41 p.m. in New York.
A sudden increase in postal service rates would cost Amazon about $2.6 billion a year, according to an April report by Citigroup. That report predicted United Parcel Service Inc. and FedEx Corp. would also raise rates in response to a postal service hike.
Amazon didn't respond to requests for comment.
'Last Mile'
Amazon regularly uses the Postal Service to complete what's called the "last mile" of delivery, with letter carriers dropping off packages at some 150 million residences and businesses daily. It has a network of more than 20 "sort centers" where customer packages are sorted by zip code, stacked on pallets and delivered to post offices for the final leg of delivery.
While full details of the agreement between Amazon and the Postal Service are unknown — the mail service is independently operated and strikes confidential deals with retailers — David Vernon, an analyst at Bernstein Research who tracks the shipping industry, estimated in 2015 that the USPS handled 40 percent of Amazon's volume the previous year. He estimated at the time that Amazon pays the Postal Service $2 per package, which is about half what it would pay UPS or FedEx.
Both shippers were up less than 1 percent Friday. Higher postal service rates would benefit private carriers by making their rates more competitive.
But the postal service's losses have little to do with Amazon and more to do with its large health-care obligations and the dwindling use of first-class mail. USPS charges some of the world's lowest stamp prices.
The president's tweet also assumes that Amazon would be forced to pay if the Postal Service increased its rates for packages. But Amazon has been setting up its own shipping operations in the U.S. and elsewhere in the world to minimize costs.
For more on Trump's Twitter storms, check out this podcast:
$62 Billion Loss
The Postal Service reported a net loss of $2.1 billion in the third quarter of 2017 and has $15 billion in outstanding debt. The service has lost $62 billion over the last decade.
USPS's chief financial officer, Joseph Corbett, wrote in a post for PostalReporter.com in August that the service is required by law to charge retailers at least enough to cover its delivery costs.
"The reason we continue to attract e-commerce customers and business partners is because our customers see the value of our predictable service, enhanced visibility, and competitive pricing," he wrote.
He said Congress should pass provisions of legislation introduced last year by former Representative Jason Chaffetz, a Utah Republican, that would allow the postal service to raise some rates and discontinue direct delivery to business customers' doors.
Amazon is experimenting with a new delivery service of its own that is expected to see a broader roll-out in the coming year. Under the program, Amazon would oversee the pickup of packages from warehouses of third-party merchants and delivery to home addresses.
Despite the occasional anti-Amazon tweet, Trump is unlikely to target Amazon with any action because the company is creating jobs by building new warehouses around the country. It's also expected to generate 50,000 new positions with its second headquarters, said James Cakmak, analyst at Monness Crespi Hardt & Co.
"The interests of Amazon and the administration are largely aligned – even factoring the dislocation to retail – given the positive headline potential around new job creation with fulfillment centers and HQ2," he said.