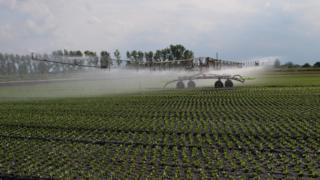 There could be a shortage of lettuce in UK supermarkets as soon as the middle of next week, growers have warned.
The unusually high temperatures have boosted demand for leafy salads at the same time as the heat has stopped the UK crop growing.
Growers say they may have to import leaves from the US to make up the shortfall at a time when more than 90% of salad leaves is usually UK grown.
Broccoli and cauliflower crops have also been affected by the weather.
Trade body the British Leafy Salad Growers Association (BLSGA) said the "soaring" temperatures were causing "havoc" for growers.
It said the last week a record 18 million lettuces had been sold, about 40% more than last year.
However, it added "when the mercury hits 30C lettuces can't grow".
BLSGA spokesman Dieter Lloyd said it "looks entirely likely that there will be shortages" from the "middle to end of next week".
'Under stress'
And one lettuce grower in East Anglia, who did not want to be named, told the BBC this summer had been "very challenging".
Normally in good weather the crop grows rapidly, he said. But at the current temperatures the crop effectively stops growing because its "under stress".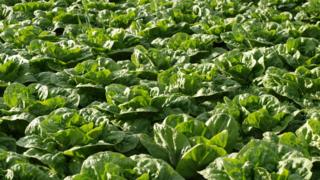 "I think that if the weather keeps going the way that it's going absolutely we wouldn't be in a position to fulfil the demand that we're seeing with UK-grown produce," he added.
At this time of peak demand more than 90% of UK leafy salads are usually grown in the UK.
The grower had already looked to Germany to try to find alternative supplies, but with similar weather conditions there, farmers there did not have enough spare.
"If this goes on for another five days I wouldn't be surprised if we had to look to the US."
And it is not just lettuce that is affected, he added. Both broccoli and cauliflower crops have been hit by the weather as well.