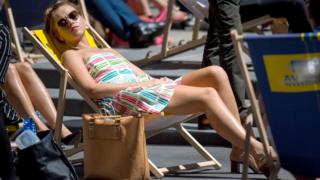 Britain is set to swelter for another two weeks, forecasters say, as water companies urge customers to use less water.
The BBC's weather team says temperatures will stay high across most of the UK over the next fortnight.
People are being told to conserve water and a hosepipe ban remains in place in Northern Ireland.
Meanwhile, figures show last month was the driest June on record in south-east and central southern England.
Scotland also had its highest temperature ever recorded, with 33.2C reached on 28 June in Motherwell, according to provisional figures from the Met Office.
The forecast for more hot weather comes as firefighters tackle a grass and corn field on fire near Marlow in Buckinghamshire.
More than 20 fire engines are battling the blaze, near Wyevale Garden Centre, which has closed several roads in the area.

A Buckinghamshire Fire and Rescue Service spokesman said it was too early to give a cause but "what's burning is very combustible and dry" due to the weather and that they would likely be battling the blaze through the night.

Forecasters say high pressure will continue across much of Britain throughout the next two weeks, "bringing plenty more very warm sunshine".
Provisional figures show the highest temperature on Monday was 30.7C recorded at Bournemouth Airport.
BBC forecaster Gemma Plumb said England and Wales saw temperatures of between 25C and 29C while Scotland and Northern Ireland reached between 20C and 24C.
"Tomorrow will be much more of the same although with more cloud for the north and east of Scotland," she said.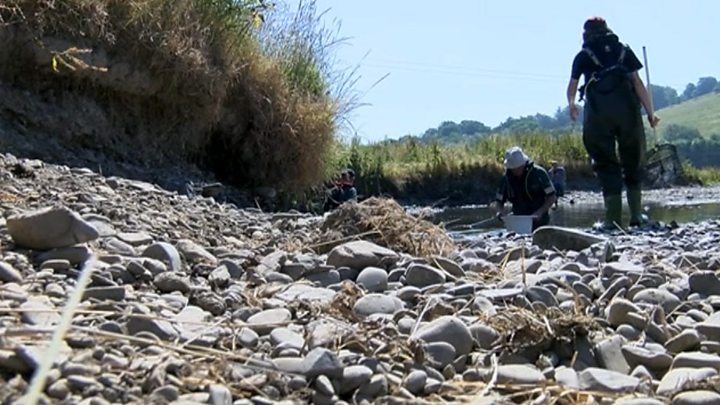 Eastern coastal areas may also see more mist while showers are a possibility in the Channel Islands and southwest England.
Pollen levels will be high or very high across most of the country, although they will be slightly less in areas with cloud.
Ms Plumb said: "It's going to be dry, fine warm weather into at least next week."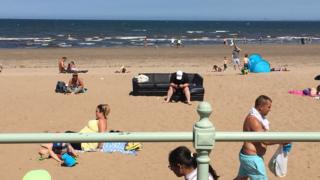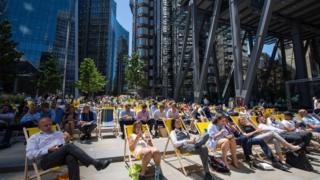 It comes after a week of hot temperatures across the UK, with the record for the hottest day of the year being set on four consecutive days.
All four UK nations reached 30C for the first time in five years.
But the UK still has a way to beat the record of the 1976 heatwave, which saw temperatures of 32C and over for 15 consecutive days.
'Use water wisely'
Southern Water, which supplies water to parts of Kent, Sussex, Hampshire and the Isle of Wight, said it was asking customers to help "keep taps flowing across our region".
It said it had boosted its supply this week by an extra 87 million litres of water a day compared with a week ago.
"We are not in drought restrictions but we are asking customers to use water wisely in the garden and avoid washing cars and windows until it begins to cool down."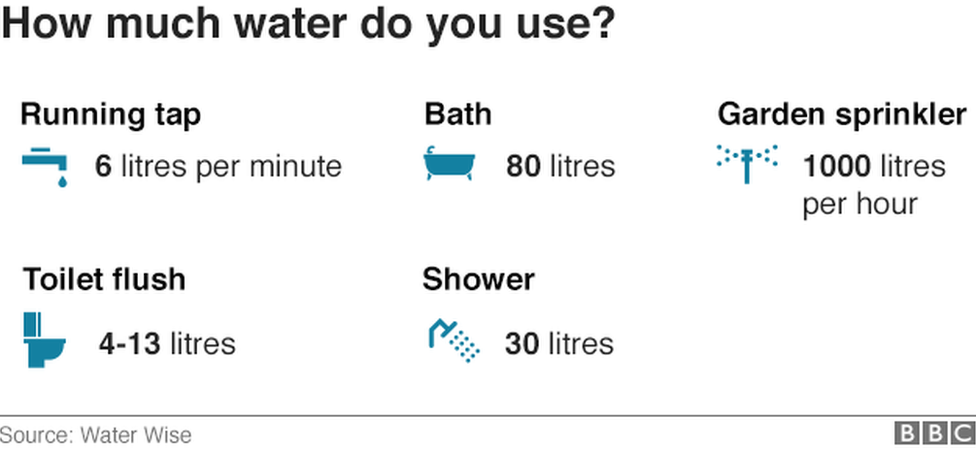 United Utilities, which operates in the north-west of England, said it has seen a "massive increase in water consumption across our area" and it was "struggling to get enough water around the system quick enough".
"Yesterday an additional half a billion litres was used and it has been the same today," the company said on Friday.
"We urgently need your help and support to avoid a hosepipe ban. You can help us by turning off your garden sprinklers, not using your hosepipes, not washing your car and taking shorter showers and not baths this weekend."
Severn Trent said it was pumping millions of extra litres into the network and asked people to avoid using the garden sprinkler or hose pipe.
Northern Ireland saw its first hosepipe ban in 23 years on Friday evening, imposed by NI Water.
Gardeners face fines of up to £1,000 if caught using a hosepipe, but the use of watering cans is still allowed.