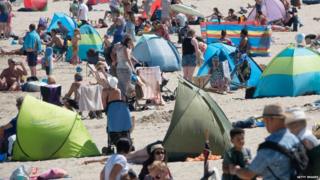 The UK has been enjoying – or enduring – another hottest day of the year, with a health warning for heatwave conditions in place for some.
Tuesday saw a top temperature of 30.6C in Porthmadog, Gwynedd – beating Monday's peak of 30.1C in west London.
The warning, issued by the Met Office, says there is an 80% chance of temperatures being a risk to health.
The hot weather is expected to last until the weekend, when temperatures are forecast to slowly drop off.
The health warning, for the south-west, north-west and north-east of England, and the West Midlands, lasts until Thursday evening.
It is intended to help social and healthcare teams prepare for the potential dangers a heatwave can present, especially to the very young, the elderly or those with chronic disease.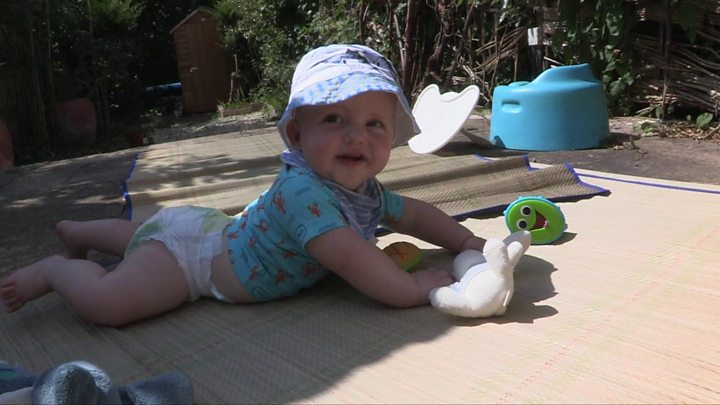 There's also bad news for hay-fever sufferers as very high levels of pollen are forecast across England, Wales and Northern Ireland throughout the week.
Some schools have said they are cancelling sports days because of the "extreme heat".
Hottest day… so far
In England, the hottest spot on Tuesday was Rostherne, Cheshire, with a temperature of 30.3C.
Aviemore recorded Scotland's peak, with 26C, while Castlederg in County Tyrone was Northern Ireland's high point, with 27C.
The Met Office says the UK could reach 33C on Thursday.
But the temperature is expected to fall short of the British record for June of 35.6C, reached in London in 1957 and again in Southampton in 1976.
The highest June temperature for Wales is 33.7C, in 2000, and for Northern Ireland it is 30.8C, last recorded in 1983.
Scotland's record temperature for June has stood for 125 years. Ochtertyre in Perth and Kinross recorded 32.2C in 1893.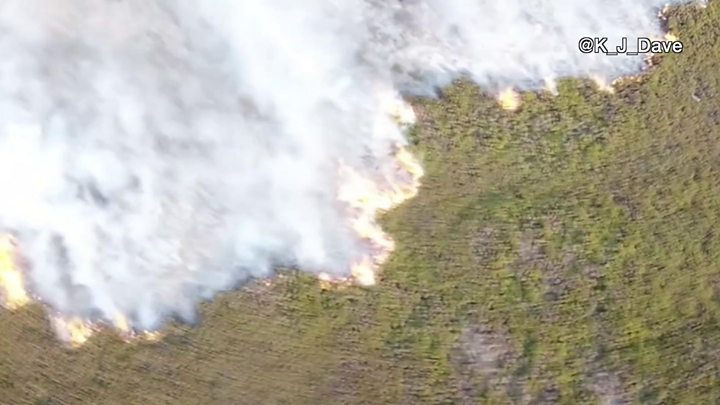 BBC Weather presenter Ben Rich said Wednesday could start out "cloudy and murky" on the east coast of Scotland and eastern England but that the skies would clear over the course of the morning.
He said: "Then it is another plain sailing day, with long spells of hot sunshine, and by this stage even Northern Ireland and Scotland will be close to 30C."
The heat will continue until the weekend, with cooler weather in eastern areas and the chance of a shower on Sunday, he said.
The heatwave has been attributed to the jet stream looping to the north of the UK, and then back down to eastern Europe, creating an area of high pressure over the country which is not shifting.
However, for Greece, the direction of the jet stream has produced very stormy conditions.
Fears that railway tracks could buckle in the heat prompted Network Rail to introduce speed restrictions.
The railway infrastructure operator said track temperatures could reach as much as 20C above the air temperature, meaning the steel rails can expand markedly. The reduced speeds are intended to lower the force exerted on the track, reducing the risk of buckling.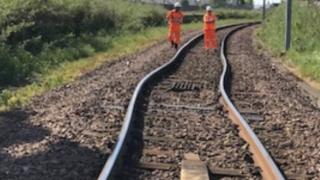 Meanwhile, police have urged people to be careful of the temptation to swim in open water in the hot weather.
The warning came after the body of a man was recovered from a lake in Nutfield, Surrey, on Monday.
A search is continuing for a missing 13-year-old, named as Ryan Evans, at Westport Lake in Stoke-on-Trent.
The RNLI has urged those heading to the seaside to seek out beaches with a lifeguard.
And St John Ambulance is urging people to avoid heatstroke by remembering to wear suncream, keep covered up and stay hydrated.
The heat also started a wildfire across two square kilometres of moorland in Greater Manchester.
And in York, police officers smashed the windows of two cars to rescue dogs "struggling to breathe" inside. Police said they had referred the car owners to the RSPCA for prosecution.
Homeless people can also be vulnerable if exposed to strong sunshine and heat while sleeping rough, the housing and support charity Evolve said.
It called on the public to donate things like suncream, water, and sun hats to homeless people either directly, or through a shelter or charity.

Heatwave health warnings explained
Green – minimum state of vigilance during the summer.
Yellow – Alert and readiness – Social and healthcare services are on standby to reduce harm.
Amber – Heatwave action – Care services target high-risk groups, like the elderly, with specific help. General advice is given to keep homes cool, drink plenty of fluids, and so on.
Red – National emergency – Reached when a heatwave is so severe that illness and death may occur among the fit and healthy, not just among high-risk groups.
Threshold temperatures for triggering these warnings range from 28C in north-east England to 32C in London.

---
You can contact us in the following ways:
Please include a contact number if you are willing to speak to a BBC journalist.