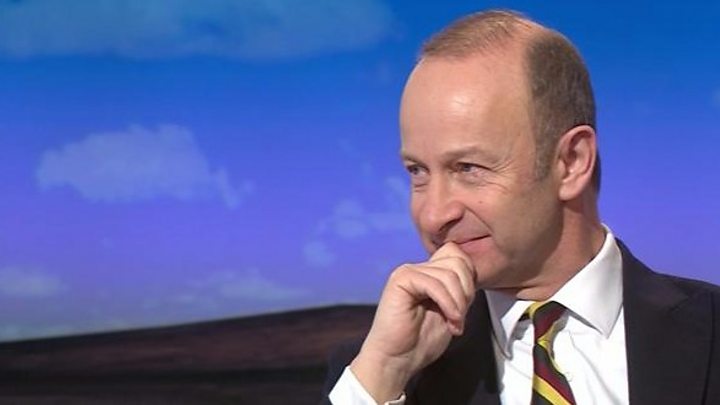 UKIP has suspended the girlfriend of party leader Henry Bolton after she apparently made racist remarks about Prince Harry's fiancee Meghan Markle.
The Mail on Sunday has published a series of messages sent by Jo Marney.
In them, the 25-year-old model said Ms Markle would "taint" the Royal Family, that she had a "tiny brain" and that black people were ugly.
Ms Marney apologised and said her messages had been taken out of context. Mr Bolton did not want to comment.
Asked on the BBC's Sunday Politics about Mr Bolton's future, UKIP chairman Paul Oakden said the leader had "some some difficult decisions to make".
"He intends on making those decisions today, and I'm sure whatever he does will be in the best interests of the party," he said.
'Shocking language'
The Mail on Sunday said Ms Marney sent the messages three weeks before her relationship with Mr Bolton, 54, started.
When a reply to one of her messages suggested her comments were racist, she added "so what?" and said she did not want other races invading her culture.
In a statement to the newspaper Ms Marney said: "I apologise unreservedly for the shocking language I used.
"The opinions I expressed were deliberately exaggerated in order to make a point and have, to an extent, been taken out of context. Yet I fully recognise the offence they have caused."

UKIP has confirmed Ms Marney has been suspended but some members have called for her permanent removal from the party.
Former deputy leader of the party Peter Whittle wrote: "These are disgraceful remarks.
"This person should not just be suspended… but expelled altogether."
Mr Bolton confirmed his relationship with Ms Marney in a letter to UKIP supporters earlier this month, after splitting up with his wife.
He denied he had been involved in a "clandestine affair".
Speaking to Daily Politics on Friday, he said he did not want the publicity his relationship with the former glamour model had attracted.
'He must go'
UKIP West Midlands MEP Bill Etheridge also called for Mr Bolton to resign.
In a Facebook video, Mr Etheridge said he was not commenting on Mr Bolton's private life but said the party had had "nothing but bad publicity" recently.
He cited several other complaints including a rise in membership fees, adding that Mr Bolton did not have the "experience, or the political nous or the correct advice to deal with the issue that he faces".
"He must go, he must go quickly, he must go as quietly as possible," he said.
Former UKIP leadership candidate Ben Walker also called for Mr Bolton's resignation.
"You have destroyed your own family; don't destroy our political one too," he wrote.
Mr Bolton, a former army officer, took over as UKIP leader in September.
He replaced Paul Nuttall, who quit following the general election, which saw the party's vote share shrink to 1.8% from 12.6% in 2015.