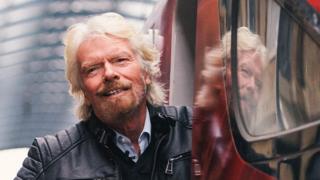 Virgin Trains has announced that it has stopped selling the Daily Mail newspaper on its West Coast trains.
A spokesperson for Virgin said it regularly reviewed products sold on its trains, adding that "after listening to feedback from our people" it decided to stop stocking copies of the paper.
A Daily Mail spokesman called the decision "disgraceful".
Last year, stationery chain Paperchase apologised for a promotional giveaway in the Mail following criticism.
The Virgin spokesperson added that when it stocked the paper, which it stopped carrying in November, it only sold one copy for every four trains.
The spokesperson told the BBC that the paper had never been stocked on its East Coast trains under the management of Virgin/Stagecoach.
And Drew McMillan, head of colleague communication and engagement at Virgin, told staff in an internal memo: "Thousands of people choose to read the Daily Mail every day. But they will no longer be reading it courtesy of VT.
"There's been considerable concern raised by colleagues about the Mail's editorial position on issues such as immigration, LGBT rights and unemployment.
"We've decided that this paper is not compatible with the VT brand and our beliefs.
"We will continue to offer The Times to customers, but we won't be stocking the Daily Mail for sale or as a giveaway.
"This won't suit all of our customers or all of our people – it's certain to draw some criticism. But we've listened to many colleagues over the last few months, and we feel that this is the right move to take."
'Attack on free speech'
Former UKIP leader Nigel Farage tweeted: "We are heading in a worrying direction."
The Daily Mail spokesman hit back, saying that at a time when fares were rising, it was "disgraceful" that Virgin was announcing that "for political reasons it is censoring the choice of newspapers it offers to passengers".
He added: "It is equally rich that Virgin chose to launch this attack on free speech in the Aslef trade union journal.
"For the record, Virgin used to sell only 70 Daily Mails a day. They informed us last November that to save space, they were restricting sales to just three newspapers: the Mirror, FT and Times.
"They gave no other reason, but it may be no coincidence that all those titles, like Virgin owner Sir Richard Branson, are pro-Remain."
The Mail has recently been critical of Sir Richard after the news that the Virgin/Stagecoach East Coast franchise will be allowed by the government to end its contract three years early.
The partnership had originally pledged to pay £3.3bn to run the service until 2023.
Virgin West Coast runs trains between London, the Midlands, the north-west of England and Scotland.
Meanwhile, in response to a report that British Airways was going to stop offering the Daily Mail to passengers, a spokesman told the BBC: "We continue to provide a choice of free newspapers for our customers – at the boarding gate, in our lounges and on board.
"Some newspapers that provided bulk supplies have decided to change their commercial policy. This will result in alterations to the choice of free newspapers available to customers."