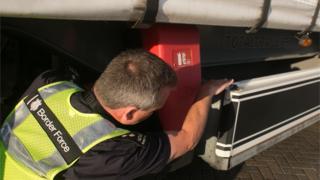 Volunteers could be used to guard some of the Britian's borders, the Home Office has said.
The plans under consideration are usually for "Border Force Special Volunteers" to be used at small air plus sea ports.
A property Office spokesman said it was "considering the potential benefits" and looking at the way they are used by police forces.
But Conservative MP Charlie Elphicke told the Mail on Weekend: "We can't possess a Dad's Army-type of set-up. inch
The Public and Industrial Services (PCS) union, which symbolizes Border Force staff, said the federal government was risking the country's protection "on the cheap".
The proposal comes after recent reviews have raised concerns over "poor" coverage of some minor harbours plus landing places.
The particular Border Force carries out immigration plus customs controls for people and items entering the UK.
Yet a good assessment by the Chief Inspector associated with Borders and Immigration, published in July, said there have been long periods of non-attendance by Edge Force at some locations as well as a lack of staff able to use professional scanners.
It looked over 62 normally unmanned ports for the east coast and found that will Border Force officers had not went to 27 of the sites between 04 2015 to June 2016.
Chief Inspector David Bolt's report also revealed the number of clandestine migrants detected at the ports got almost doubled in 12 months increasing from 233 to 423.
Another report by Brian Anderson QC, former independent reviewer of terrorism legislation, said there have been similar issues with smaller south plus east coast ports, marinas plus landing places, adding it was "conceivable" they might be an option for returning international fighters or other terrorists.
'Ridiculous plans'
The Home Office said if this was to introduce volunteers, they will be used to "bolster" Border Pressure staffing levels and would not be applied by Immigration Enforcement.
But Mark Serwotka, general admin of the Public and Commercial Solutions (PCS) union, called the plan "ridiculous".
"Border Force already are using poorly trained seasonal employees at most ports and airports, not merely at peak periods but throughout every season because of permanent staff cuts, inch he said.
"The plans to use volunteer Border Pressure specials is a further move toward casualisation of the workforce. "
Mr Elphicke, MP designed for Dover, said he would "urge excellent caution before seeking to adopt an auto dvd unit like that used by the police, with specific constables".
"Border safety is a skilled job, which requires many years of training. "